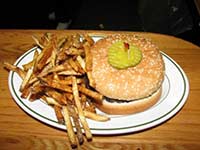 Hodge's Café has been Barberton's go-to place for mouthwatering burgers since 1996. Our famous half-pound Hodge Burger remains a staple in Barberton's culinary reputation.
But we don't serve just burgers! Our extensive menu includes steaks, appetizers, soups and salads, and our daily specials come from old family recipes.
Stop in to Hodge's for a taste of Barberton!